Ukai: Cormorant Fishing on the Nagara River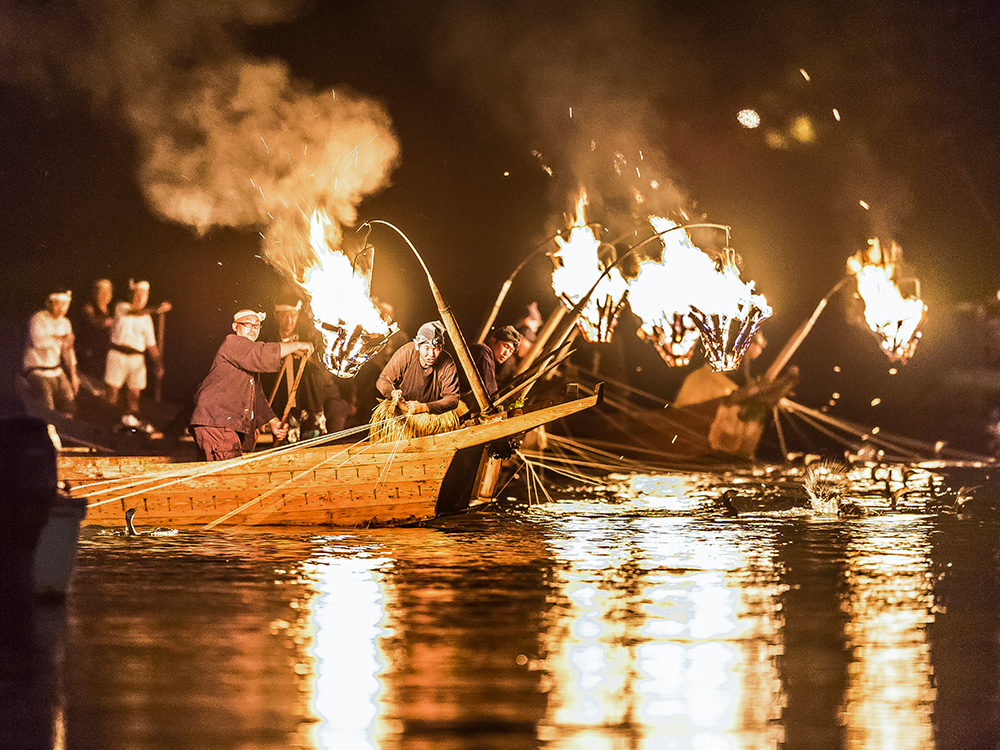 Ukai -cormorant fishing on the pristine Nagara river - is one of the most summer sights of Gifu City.
Cormorant fishing on the Nagara River is held every night during the season from May 11 through October 15, with the exception of the harvest moon period, when river water levels are swollen.
Ukai is a traditional night fishing method in which an usho (Cormorant Fishing Master) and u (cormorant birds) work together to fish by the flames of Kagari-bi (fishing fire lanterns) reflecting on the dark surface of the river, with Mt Kinka and lofty Gifu Castle on its summit providing a dramatic backdrop to the scene.
Cormorant fishing has about 1,300 years of history, and has traditionally been protected by both local and national authorities. It is said that the Sengoku ("Warring States Period") general ODA Nobunaga took the Ukai fishermen under his official patronage and created for them the official position and title of usho (Cormorant Fishing Master). The Shogun TOKUGAWA Ieyasu who established the national Edo Shogunate (1603-1868) government often enjoyed watching Ukai when visiting Gifu, and also gave his patronage and protection to the fishermen. He loved ayu-zushi (sushi with wild sweetfish) made in Gifu and ordered it to be brought to Edo city (modern day Tokyo).
Many notable intellectuals also loved Ukai. Haiku poet MATSUO Basho wrote a famous haiku when he visited Gifu and watched cormorant fishing: "Exciting to see / but soon after, comes sadness / the cormorant boats" (English translation: Wikipedia). The great actor Charles Chaplin visited twice to watch cormorant fishing and praised it highly.
There are six usho Cormorant Fishing Masters working the Nagara River, and their skills have been carried on by hereditary succession within their families. Their formal title is "Imperial Cormorant Fishing Master, Board of Ceremonies and Rituals, Imperial Household Agency". The Emperor also had a chance to watch Ukai. U'ayu are sent to the Imperial family several times a year.
The set of 122 pieces of Ukai equipment is designated as an important tangible folk cultural asset of Japan, and Nagara River Ukai is designated as an important intangible folk cultural asset of Gifu prefecture. The "ho-ho" calls that Cormorant Fishing Masters make to encourage the cormorants and the sound made by tapping the upper edge of the boat are counted among the 100 finest soundscape items in Japan.
A variety of events such as performances of Japanese drums and fireworks are held to celebrate the opening of the Cormorant Fishing Season on May 11 every year.
INFORMATION
Date
May 11 - October 15
Ukai is not held on the Ukai holiday (1 day around the harvest moon day) and/or when river water levels are too high.
Closed on the Ukai holiday (1 day around the harvest moon day)
Ukai Starting Time
Around 7:30 p.m. (subject to change according to the season or event)
Departure time of the Ukai viewing boat

Scheduled boat

6:15 p.m. or 6:45 p.m. or 7:15 p.m.

Charter boat

After around 5:30 p.m. as requested

Charge

Scheduled boat

Departure time of the Ukai viewing boat
Adults (age 13 or junior high school students, and over)
Children (age 3 to 12)
18:15
Everyday
3,500 yen
1,800 yen
18:45
Weekday
3,200 yen
1,800 yen
19:15
Sat/Sun/
public holiday
3,500 yen
1,800 yen

Scheduled boats are not operated when fireworks are displayed (the last Saturday of July and the first Saturday of August)
Consumption tax is included.
For a school trip, 1,500 yen per person.

Access

Boarding area to Ukai viewing boat

Take one of the following buses at JR Gifu Station or Meitetsu Gifu Station to "Nagara-bashi". (takes 16 min., 220 yen/one way.)

Gifu Bus "N80 Bound for Takatomi"
Other Gifu Bus numbered "N32" to "N86" bound for Gifu Park /Takatomi direction
"City Loop-line" Counterclockwise direction

Get off and walk 1 minute.

Parking
Gifu Park Parking Lot
Address

Boarding area to Ukai viewing boat

Gifu City Cormorant Fishing Viewing Boat Office

1-2 Minato-machi, Gifu City

Contact and Reservation

Gifu City Cormorant Fishing Viewing Boat Office

+81-58-262-0104
A typical Ukai watching schedule