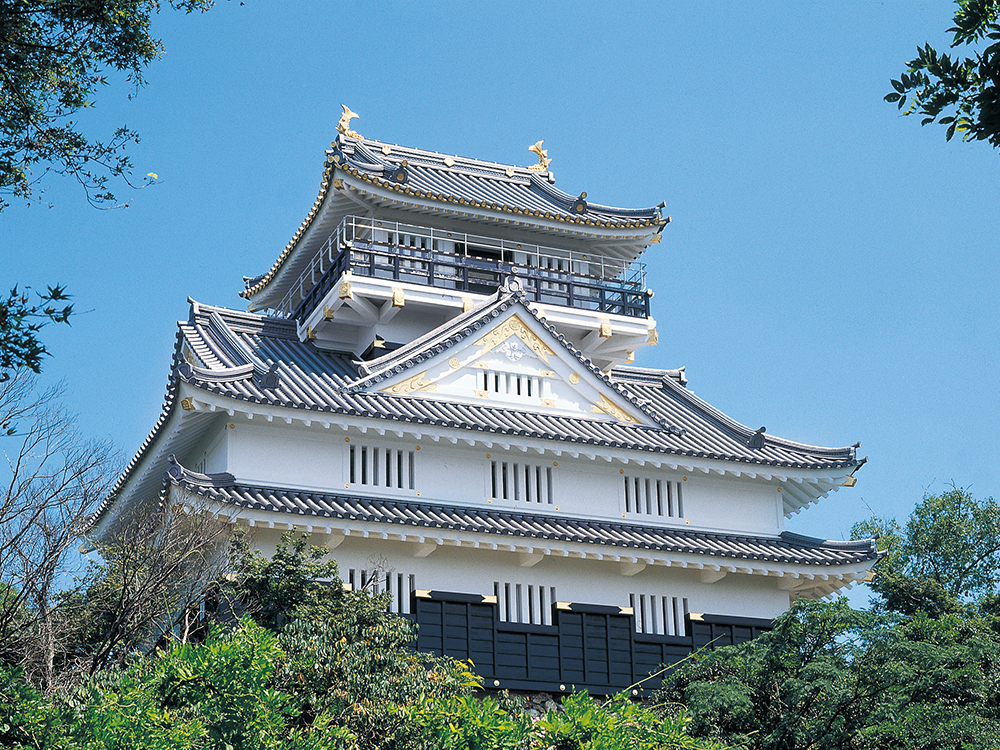 First built as a fortress on the top of Mt. Kinka during the Kennin era (1201-1203), Gifu Castle has a history of over 800 years. ODA Nobunaga, a famous general in Sengoku period, occupied the castle and became its master in 1567. At this time, ODA changed the name of this area from "Inokuchi" to "Gifu" and of the castle itself from "Inabayama Castle" to "Gifu Castle". As ODA expanded his empire and unified the nation with his fresh ideas and unique politics, Gifu Castle became a bustling center of activity.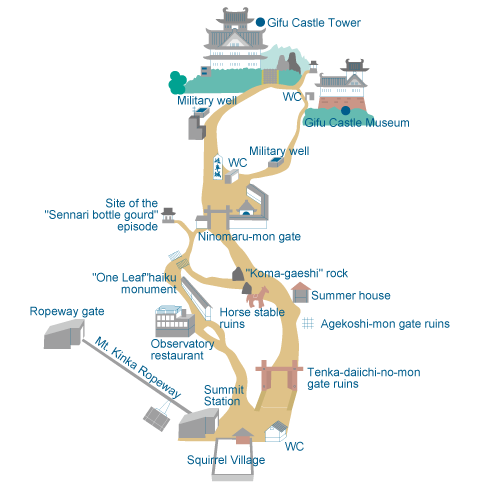 The ODA family lost the castle after Hidenobu, Nobunaga's grandson, allied his clan with the losing side of the decisive Battle of Sekigahara in 1600 that resulted in over 250 years of Edo Shogunate rule of Japan.
The present three-story and four-floor castle was rebuilt with ferroconcrete construction in 1956 and has been a popular symbol of Gifu City ever since.
You can enjoy displays in the castle's exhibition hall and the observation gallery on its top floor.
From the observation gallery, you can enjoy the magnificent landscape of the area, including the clear waters of the Nagara River below against a backdrop of mountain ranges, and Ise Bay to the south.
Gifu Castle is dramatically illuminated every night from sunset to 11 p.m.
Also, for a limited period during summer, the castle's opening hours are extended to nighttime. Providing a dynamic 360-degree panoramic view of the region, this castle is one of Gifu's most popular night spots.
Pictures taken from Gifu Castle
A view from the top of Gifu Castle (toward Nagara River)

Nagara River runs through the center of the picture.
Gifu Castle Museum

Various articles related to Gifu Castle are displayed. The entrance fee is included in Gifu Castle admission fee.
INFORMATION
Hours

Mar 16 - May 11 9:30 a.m. - 5:30 p.m.
May 12 - Oct 16 8:30 a.m. - 5:30 p.m.
Oct 17 - Mar 15 9:30 a.m. - 4:30 p.m.

[Panorama night view]

Contact details: Gifu City Convention and Visitors Department +81-58-265-3984

Admission fee

Adults - 200 yen (age 16 and over) Children - 100 yen (age 4 to 15)
Group rate (over 30 persons): 20% discount

[Ropeway fare]

Adults - 1,100 yen / round trip (age 12 or junior high school students, and over)
Children - 550 yen / round trip (age 4 to 11)

After 6:00 p.m. during the panorama night view period:
Adults - 900 yen / round trip
Children - 450 yen / round trip

Closed
Never closed - Open every day of the year
Access

Take one of the following buses at JR Gifu Station or Meitetsu Gifu Station to "Gifu Park/ Gifu City Museum of History". (Takes 15 min. 220 yen/one way)

Gifu Bus "N80 Bound for Takatomi"
Other Gifu Bus numbered "N32" to "N86" bound for Gifu Park /Takatomi direction
"City Loop-line" Counterclockwise direction

Get off and walk 3 minutes. Take Mt. Kinka Ropeway, (takes 4 min.) and walk 8 minutes to Gifu Castle. -There is no car access to the top of Mt. Kinka or to Gifu Castle.

Parking
Gifu Park Parking Lot
Address
18 Kinkazan Tenshyukaku Gifu City
Contact
+81-58-263-4853