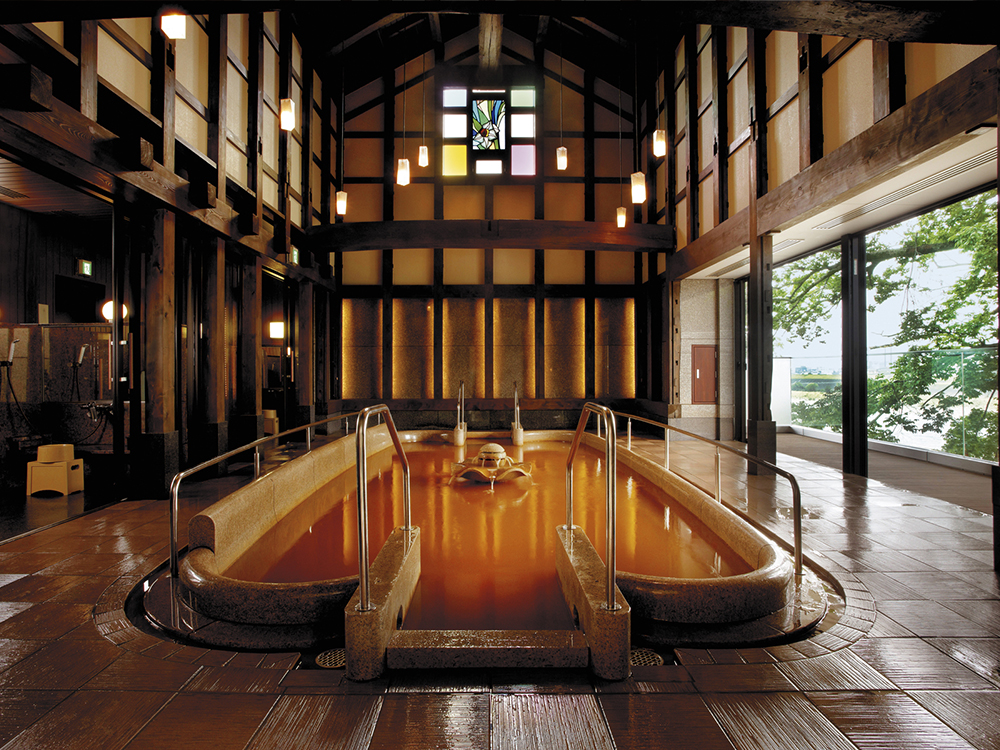 The resort town of Nagara River Hot Springs is located at the foot of Mt. Kinka, and on the banks of the beautiful Nagara River.
Many of the hotel accommodations offer views of the Nagara River. You can enjoy the natural environment, with its seasonally changing features, relaxing in a natural hot spring bath.
The hot spring water is originally colorless when it wells up from the underground source, but it turns gradually to russet brown once exposed to the air because of its high iron content.
These hot springs are considered to be beneficial for neuralgia, arthralgia, fatigue, and other ailments.
Spring type: simple iron spring
Go to the "Nagara River Hot Springs Hotels Cooperative Association" Website
Members of the Nagara River Hot Springs Hotels Cooperative Association
:Hotels having hot spring facilities
Daytime bathing plans (without hotel accommodations)
Ishikin (confirmation required):

Service hours: from noon until 4 p.m., Charge- 1,000 yen /with a face towel and a bath towel
Hotel Park (reservation required):

Service hours: from 1 p.m. until 4 p.m., Charge-1,000 yen /with a towel
Juhachiro (confirmation required):

Service hours: from 2 p.m. until 8 p.m., Charge-1,000 yen /with a towel
Gifu Grand Hotel (reservation required):

Service hours: from 11:30 a.m. until 2:30 p.m. for lunch, from 1 p.m. until 3 p.m. for bathing
Charge: 2 courses for lunch and bathing /3,000 yen, 4,500 yen /with a face towel and a bath towel
Ushounoie Sugiyama (confirmation required):

Service hours: from 11:30 a.m. until 3 p.m., Charge- 1,000 yen /with a towel