Gifu Festival and Dosan Festival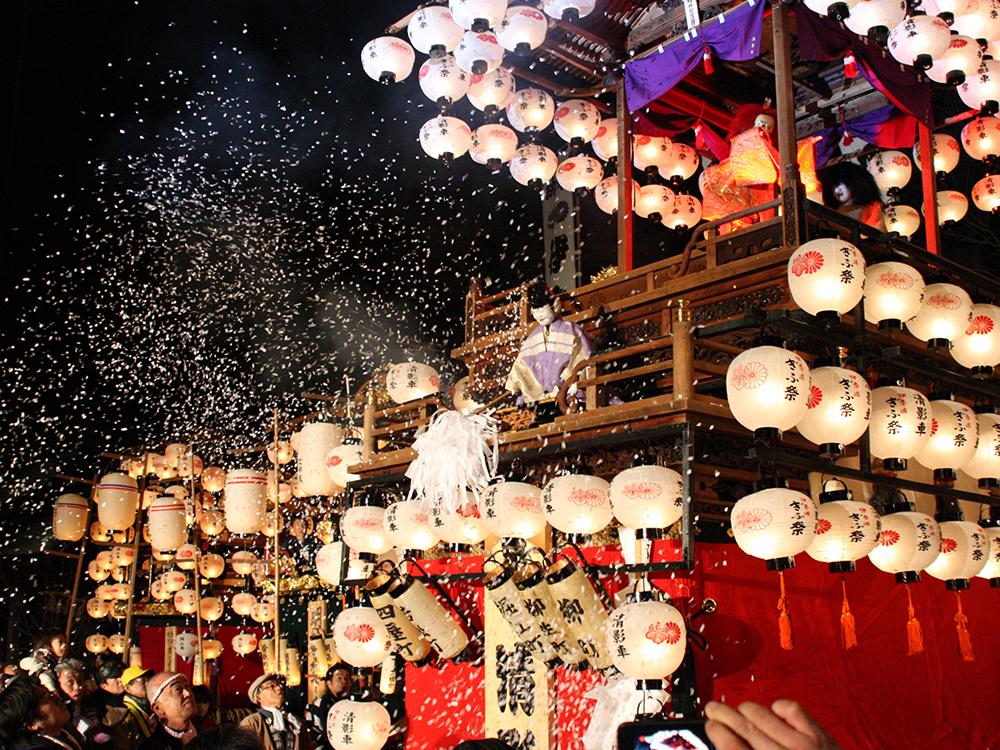 Dosan Festival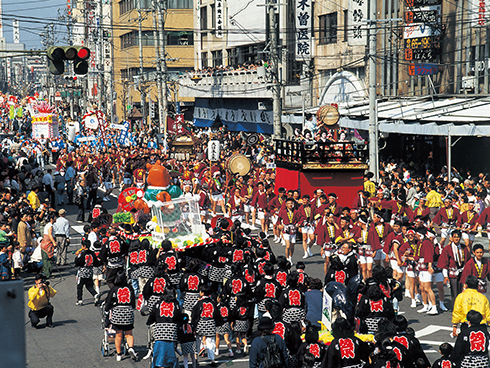 The Dosan Festival is one of the biggest festivals in Gifu City. It is held on the first Saturday and the following Sunday of every April.
Starting with the memorial service for SAITO Dosan at Jozai temple (Dosan's family temple), many events are held such as mikoshi (portable shrine) parades that feature the festival, a parade by musical bands, and a flea market. The festival attracts many visitors every year.
Gifu Festival and the Eve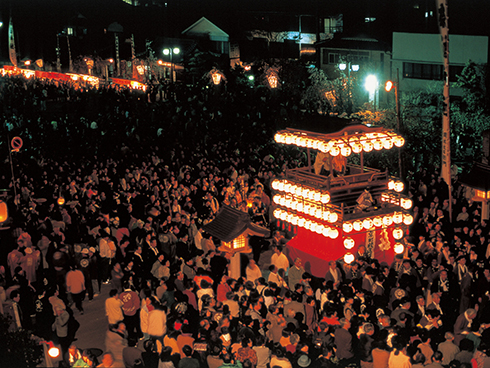 The Eve is held on the night of the first Saturday in April. Four dashi (floats) and a mikoshi (portable shrine) are paraded with great vigor. The floats are decorated with many paper lanterns, which are swung back and forth and around. The portable shrine is shouldered by people who let out powerful shouts.
After the floats reach their destination to be lined up in the open space in front of the torii (shrine gate), a wind-up doll show is performed, which is followed by a fireworks display which is the climax of the Eve festivities. You will surely enjoy visiting this festival!
Schedule
Main festival events held every year:
Saturday:

The memorial service for SAITO Dosan
Mikoshi Parade and Musical Band Parade (Nagara bridge street)
Wakamiya-cho Pedestrian Precinct Mall (Wakamiya-cho street)
Kogane Park Flea Market
Eve of the Festival
Sunday:

Wakamiya-cho Pedestrian Precinct Mall (Wakamiya-cho street)
Kogane Park Flea Market
INFORMATION
Date
Held on the first Saturday and the following Sunday of April
From 10 a.m. to 5p.m. (Times vary depending on the event.)
Location
Downtown of Gifu city
Access
5 to 15 minutes' walk from JR Gifu Station / Meitetsu Gifu Station
Parking
Pay Parking Lots in Central City Area
Contact

Dosan Festival

Dosan Festival Executive Committee
(in the Commerce Industry and Tourism Department of Gifu City)
TEL +81-58-265-4141

Gifu Festival and the Eve

Inaba Shrine TEL +81-58-262-5151