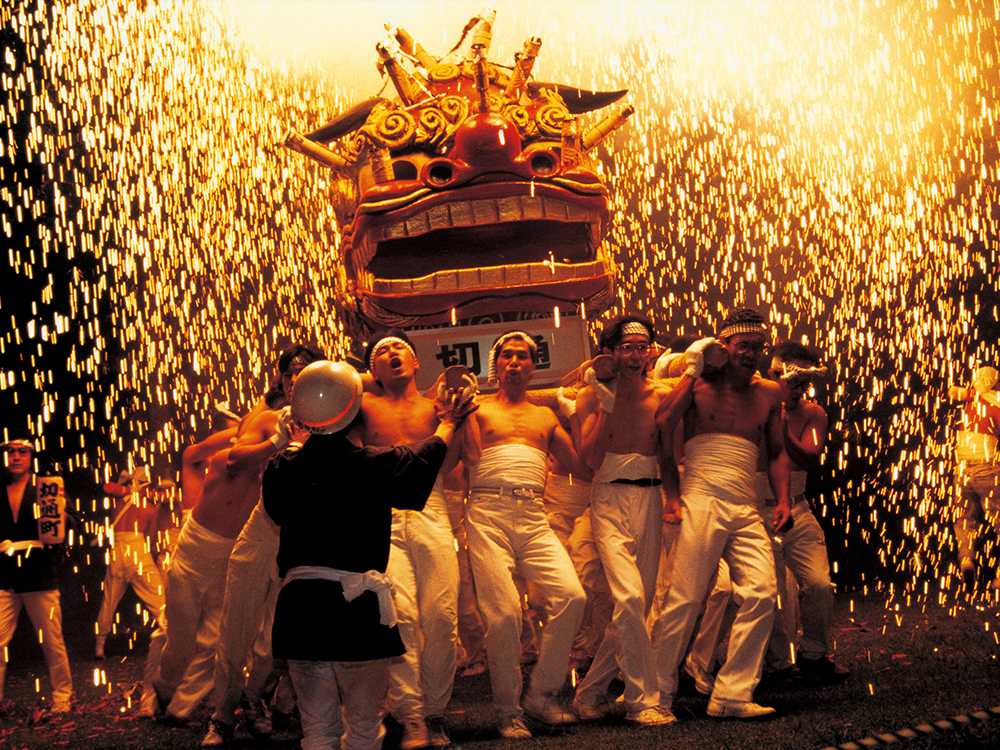 The Tejikara Fire Festival is held on the second Saturday of every April and is said to have a history of more than 300 years.
Cascades of fire sparks rain down on men stripped to the waist who carry the portable shrine on their shoulders; great sprays of fire sparks also fly up from the portable shrine; a lot of men dance wildly around the portable shrine clanging bells and lighting firecrackers. This is a dynamic festival of sound and fire!
Some aspects of the festival
Gohei Andon (standing lanterns)

Lanterns hanging from 20 meter-high bamboo poles are lit. It is said that the year will be rich in harvest if the lanterns can be lit without trouble.

A portable shrine wildly swung by men under cascades of fireworks sparks.
Gunpowder contained in the portable shrine is lit by the cascades of sparks.
INFORMATION
Date
The second Saturday of April From around 6:30 p.m. to around 9:10 p.m.
Location
Tejikarao Shrine (Kuranomae, Gifu-City)
Access
Take Kagamigahara line at Meitetsu Gifu Station to "Tejikara" Station (takes 8 minutes, costs 230 yen/one way). Get off and walk 5 minutes.
Parking
Not available
Contact

Gifu Convention and Visitors Bureau

TEL +81-58-266-5588