Fireworks on Nagara River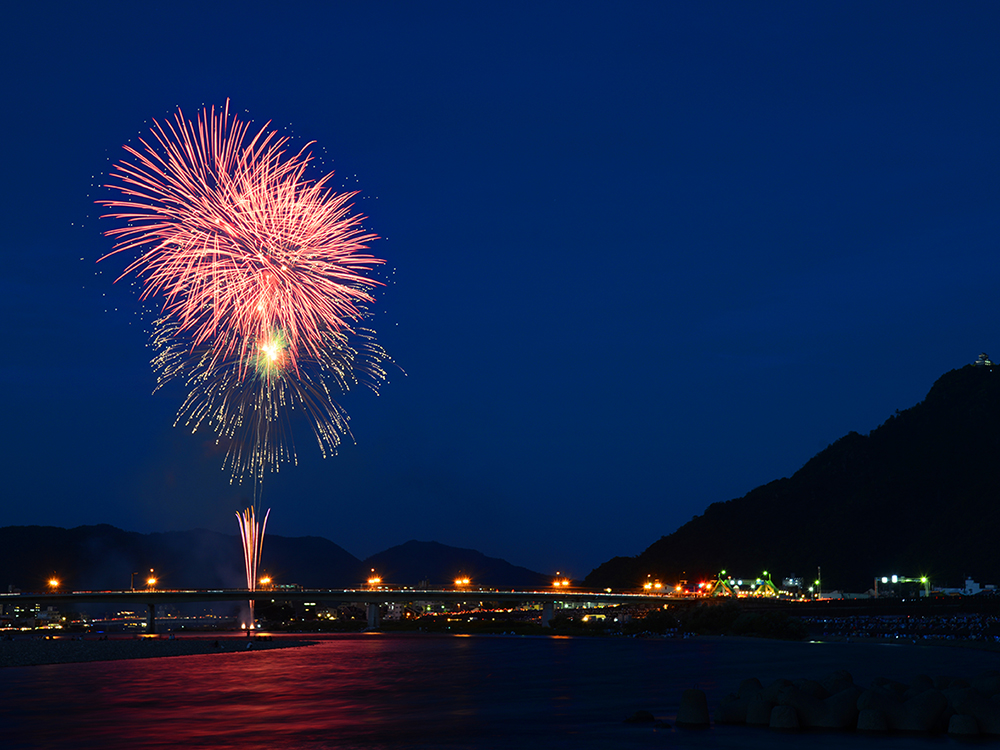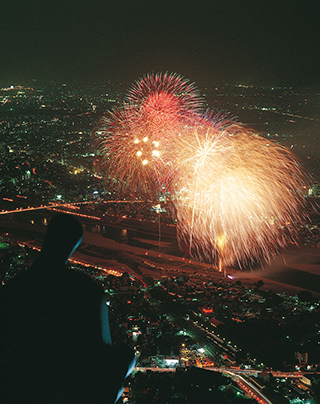 The Chunichi Newspaper Nagara River All-Japan Fireworks Festival

(last Saturday of July)
The Nagara River National Display

(first Saturday of August)
These competitive fireworks displays are among the largest scale fireworks shows in Japan.
Large numbers come to Gifu each year to watch fireworks launched from the bed of the Nagara River, with Mt. Kinka in the background. The river bank itself is "the best seat in the house" for watching the display. It would not be a summer in Gifu without this display.
Fireworks start in the morning, and many people wear a yukata (summer kimono). The city is bustling on that day.
In the evening, the night sky is lit up by a series of giant fire-flower blossoms. You are sure to be impressed with the breathtaking beauty of magnificent, traditional and modern fireworks such as Star Mines, Niagara Falls and so on.
The fireworks display is held for two weeks in a row at the same location. Both displays attract approximately the same number of visitors.
INFORMATION
Date & Time

The Chunichi Newspaper Nagara River All-Japan Fireworks Festival

Last Saturday of July 7:20 p.m.-8:35 p.m.

The Nagara River National Display

First Saturday of August 7:30 p.m.-8:45 p.m.

Location
Nagara River bank (between the Nagara-bridge and Kinka-bridge)
Access

Around 4:30 p.m.

Special buses run from JR Gifu Station and Meitetsu Gifu Station.

Before 4:30 p.m.

Take one of the following buses at JR Gifu Station or Meitetsu Gifu Station to "Nagara-bashi" or "Ukai-ya". (takes 16 min., 220 yen/one way.)
(Note: these two bus stops do not run in the evening.)

Gifu Bus "N80 Bound for Takatomi"
Other Gifu Bus numbered "N32" to "N86" bound for Gifu Park /Takatomi direction
"City Loop-line" Counterclockwise direction

Get off and walk 1 minute.

Parking
Peripheral pay parking lots
Temporary parking lots for Fireworks Festival (For more information, see fireworks official web Site.
Contact

The Chunichi Newspaper Nagara River All-Japan Fireworks Tournament (last Saturday in July)

The Chunichi Newspaper
TEL +81-52-221-0671

The Nagara River National Display (first Saturday in August)

Gifu Newspaper and the Gifu Broadcasting System Inc.
TEL +81-58-264-1151
Others
About seating for viewing
There is no charge for seating.
You can view freely at dry river beds except for out-of-bounds areas, etc.
The best point for viewing is located down stream on the northern end of the Nagara bridge (Nagara-gawa park). This is also the most crowded place and the hardest place to reserve a seating spot, so if you want to reserve one, come early!
Access
From JR Gifu station to the best fireworks viewing area, it takes about 30-40 minutes on foot.
Special buses are available for the return run between Gifu Shiyakusho-mae bus stop - Meitetsu Gifu Station and JR Gifu station.
Traffic congestion
In the afternoon on that day, traffic is restricted in the city and is particularly heavy on roads around the venue.
Since cars and buses may stop moving due to the traffic jam around the 7:00 p.m. start time, please come to the site in plenty of time.
Moreover, crowded and congested conditions after the fireworks are over continue until near midnight.
Parking lot
Since the parking lots around the venue get full very early, we recommend you use public transportation.