Tejikara Fire Festival, Summer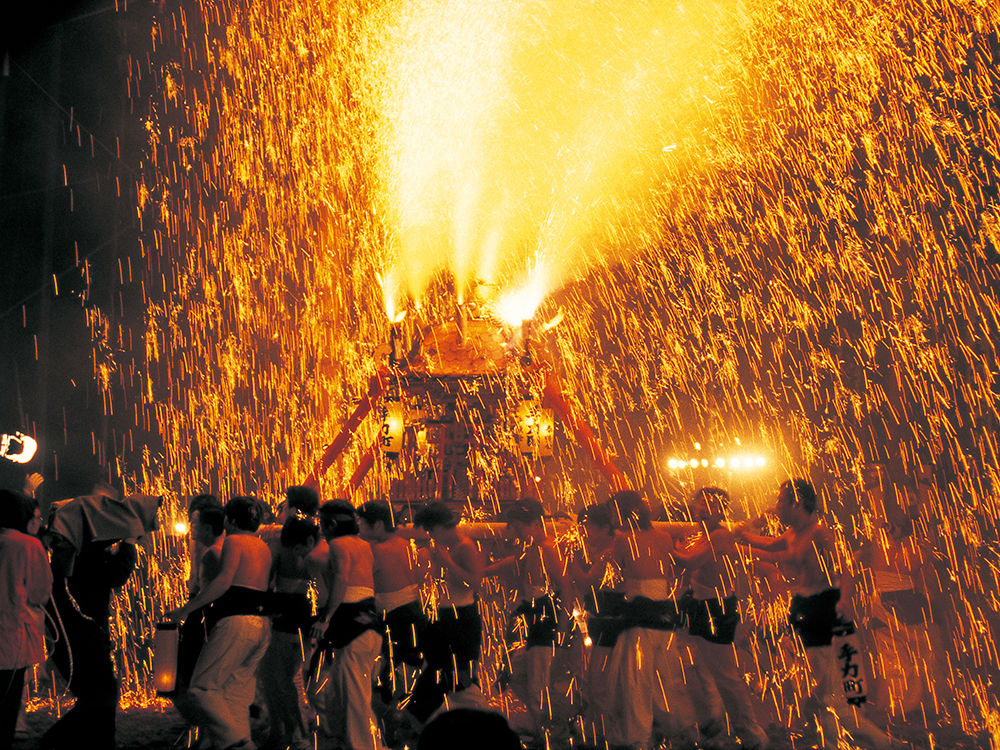 The annual festival of Tejikara shrine held on the 2nd Saturday in April is relocated to the Nagara River bank and held once again every August.
Watching from the bank of the Nagara River against the dramatic backdrop of Mt.Kinka is the prime location for viewing.
For the main event, under cascades of firework sparks, men wearing only loincloths bear gunpowder-loaded mikoshi portable shrines on their shoulders. Once the gunpowder stashed in the shrines is ignited by the fireworks sparks, it shoots long streams of fire high into the sky. Meantime, the men dance wildly, sounding bells and setting off firecrackers. This is a dynamic celebration of sound and fire!
"Crack fireworks", a type of skyrocket exploded on the ground, are another spectacle unique to the summer event - they can't be seen in the spring version of the festival.
The scene of the festival
Gohei Andon (standing lanterns)

Lanterns hanging from 20 meter-high bamboo poles are lit. It is said that the year will be rich in harvest if the lanterns can be lit without trouble.

A portable shrine wildly swung by men under cascades of fireworks sparks.
Gunpowder contained in the portable shrine is lit by the cascades of sparks.
INFORMATION
Date
Second Sunday of August
Time
6:30 p.m.-9:10 p.m.
Location
The north side of Nagara Bridge ; Nagara-gawa Park
Access

Take one of the following buses at JR Gifu Station or Meitetsu Gifu Station to "Ukai-ya". (takes 20 min., 220 yen/one way.)

Gifu Bus "N80 Bound for Takatomi"
Other Gifu Bus numbered "N32" to "N86" bound for Gifu Park /Takatomi direction
"City Loop-line" Counterclockwise direction

Get off and walk 3 minute.

Parking
Not available
Contact

Gifu City Tourism Convention Division

TEL +81-58-265-4141