Come and talk in the heart of Japan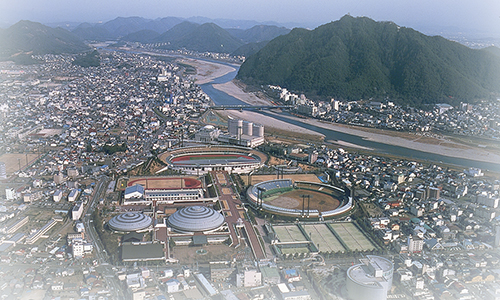 NOBUNAGA CONVENTION is the first international meeting in GIFU
During the era known as the "Warring States Period" (ca.1450-1600), when the Japanese archipelago was driven by strife between rival daimyō warlords, one of the greatest military leaders of the land was ODA Nobunaga (1534-1582) of Gifu. He lived in Mt. Inaba Castle (the present Gifu Castle) atop the summit of the mountain of the same name. At that time, Gifu was called Inokuchi. Under Nobunaga's rule, the domain's name was changed to Gifu
In 1569, aiming to spread Christianity, the Portuguese Jesuit missionary Luis Frois paid a visit to Nobunaga and spoke to him about foreign culture, among other matters. It is said that Nobunaga listened starry-eyed and as a result sought to introduce foreign culture in Japanese daily life. It is also said that Nobunaga entertained his Portuguese guest by personally performing Japanese "Noh" classical drama.
Here at the Gifu Convention and Visitors Bureau we think the meeting between ODA and Luis Frois may very well have been the "first international meeting (convention)" as well as the "first international exchange" held in Gifu. Moreover, following ODA's custom of considering casual hospitality important in the holding of a convention, we imitate the "Nobunaga Convention" and extend invitations and support to international meetings held in Gifu. Various international meetings of a wide range of scale are held in Gifu City every year.
We invite you to consider Gifu City as the venue for your next convention!
In this presentation, we provide information we hope will help you decide in favor of Gifu. This includes: a list of our supportive services; background and introductory information about Gifu City; access and transportation information; major convention venues and sightseeing facilities in Gifu; and various other additional information.